I was surprised at how sturdy this fly swatter is. The wire handle is made with really thick gauge aluminum. It's not going to bend out of shape if you hit hard. The leather part is quite flexible and swats well. Its attached well and won't come off
Compared to the cheap plastic swatters, this swatter is a hand made leather swat. No more cracking or twists
A thick leather cover is riveted at the junction of the metal handle which ensures thousands of times uses.
Leather Fly Swatter | Heavy Duty Flyswatter | Leather Insect Swat
FREE FAST DELIVERY ACROSS HONG KONG FOR ALL ORDERS $550+ or more (Save $150)
3 DAY DECEMBER SUPER SALE … Don't Miss Out
With 43cm durable metal handle you can smack annoying bugs and flies while keeping a comfortable distance.
The weight is comfortable and makes it easier to swat the flies in the air to take them down. Don't feel tired after swatting repeatedly.
Washable and easy to clean – Super easy to clean with a damp cloth or paper towel.
SPECIFICATIONS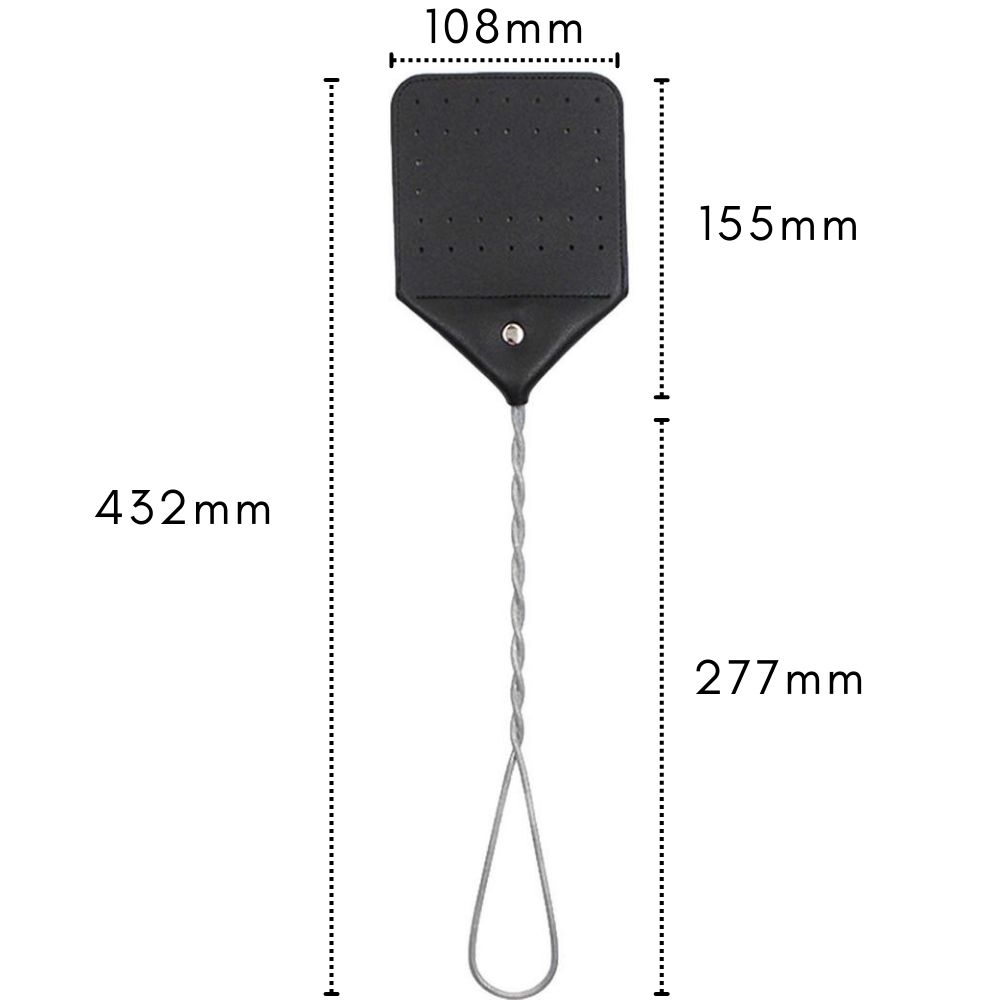 DUE TO CURRENT DEMAND
PLEASE ALLOW 5-7 DAYS DELIVERY

Frequently Asked Questions
Which payment methods are accepted?
We currently only accept credit card payments, PayPal & Crypto currency. More payment methods will be added in the future.
What currency are the prices displayed in?
All of our prices are displayed in $ HKD.
What are your delivery options and how long will it take?
HONG KONG: Free shipping, 5-7 days
OUR SHIPPING PARTNERS

Do I get a receipt for my order?
You will be sent a receipt for your order by email after payment is made. You will also receive a confirmation email with a tracking number once your item has been shipped.
Do you have a shop location?
We are a "online supplier", with no physical shop or premises. In this way, we are able to pass our considerable savings directly to you.
Do your products come with warranty?
Unless otherwise stated all items purchased from https://insectscreenshongkong.com come with a standard consumer warranty.
Can I return my item?
We will gladly Refund or Exchange an item if:
The item is faulty
The item is not the same as the description or as shown or advertised
The item does not perform as per the manufacturers intention
You may not be entitled to a Refund or Exchange if:
You have changed your mind and no longer require the item
You decide you cannot afford the item
You found the item cheaper elsewhere
The style, colour, or size is not suitable
You were responsible for the fault
All refund requests MUST be accompanied with an original receipt or other proof of purchase.
Please feel free to discuss our policy with our Manager prior to purchase.
Note that measurements quoted on our website and affiliated sites and social media channels are subject to slight variances, when purchasing items measure all items to ensure they fit your space.
How do I know if my order has been shipped?
Once your order is shipped, it will be marked as complete in our database and you will receive a confirmation email with a tracking number.
I haven't received my order yet! Is it lost?
If you have any concerns with your order, please contact our support team by email and they will be glad to assist you. Most emails are answered within 1 business day.
Support Team: [email protected]
What is a leather fly swatter, also known as a heavy-duty flyswatter or leather insect swat?
A leather fly swatter is a hand tool designed to swat and eliminate flying insects, particularly flies. It is constructed with a sturdy leather material, providing durability and effectiveness in insect control.
How does a leather fly swatter work?
A leather fly swatter works by utilizing its flat, flexible surface to swat and strike flying insects in mid-air. The weight and construction of the leather material help to ensure a successful and effective swat.
Are leather fly swatters more durable compared to other materials?
Yes, leather fly swatters are known for their durability. The thick and sturdy nature of the leather makes them more resistant to wear and tear, providing a longer lifespan compared to other materials.
Can a leather fly swatter cause damage to furniture or surfaces?
When used properly, a leather fly swatter should not cause damage to furniture or surfaces. However, it is important to use caution and avoid excessive force while swatting insects to prevent unintentional damage.
Are leather fly swatters suitable for outdoor use?
Yes, leather fly swatters can be used both indoors and outdoors. Their durable construction makes them suitable for outdoor environments where flies and other flying insects are prevalent.
Do leather insect swat require any maintenance?
Leather Insect Swat generally require minimal maintenance. It is recommended to periodically clean the swatter by wiping it with a damp cloth to remove any insect residue. Proper storage in a dry area can also help maintain its quality.
Are leather fly swatters effective against other flying insects besides flies?
Leather fly swatters can be effective against various flying insects, including gnats, mosquitoes, and wasps. However, their effectiveness may vary depending on the size and agility of the targeted insect.
Can leather fly swatters be used by individuals with allergies or sensitivities?
Leather fly swatters are generally safe to use for individuals with allergies or sensitivities. However, if there are concerns regarding the impact of insect remnants, it is advisable to wear protective gloves or use alternative methods of insect control.
Can leather fly swatters be personalized or customized?
Some manufacturers offer personalized or customized options for leather fly swatters. This may include engraved handles, embossed logos, or specific color choices. Check with the supplier or manufacturer for customization options.
Are leather fly swatters suitable for professional use or commercial establishments?
Leather fly swatters can be used in both professional and commercial settings. They are commonly used in restaurants, cafes, and other establishments where fly control is necessary. The durable nature of leather makes them well-suited for frequent use.
Please note that specific instructions and guidelines may vary depending on the manufacturer or brand of the leather fly swatter. Always exercise caution and follow the provided instructions for safe and effective use.